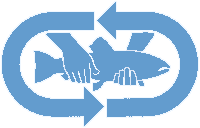 I love fishing. It's so relaxing, it brings me closer to nature and brings out the primitive in me. Not only that but it's the only thing I've really done as a hobby with both, mom and dad lol I'm from southern California but I have a lot of family in Canada, and my family visits a lake in Canada for a few weeks every summer, so we fish quite a lot there.. 99% of the time we practiced catch and release. No one in my family really likes fish (my dad will eat it maybe 2 times a year), so there is no reason to keep them. But if a fish got injured in the process, we'd keep it and my dad would clean it and give it to a friend/relative to eat, so at least it didn't go to waste.
The million dollar question: Is catch and release really okay?Does the fish really die from it? Doesn't it cause them unnecessary pain?
I've seen fish take a lot of damage. Once I was out fishing with my parents on the lake in Canada, and my mom managed to hook some stray fishing line. We always pull in all the line/lures we can find because we like to keep the area beautiful, so my dad started dragging it in. On the other end was a 1 1/2lb-2lb small mouth with large Rapala hooked in it's mouth and all down it's side. It was so sad, there was no fight left in the poor thing and we didn't know there was a fish attached to the line until it got right near the boat. My dad got out his pliers and unhooked the Rapala from the fish's mouth and side, and then slowly started reintroducing it to the water. It took like 5 minutes, but eventually the fish seemed to recover. My dad held onto it in the water for a few more minutes until it shook free and dove. At the end of that summer I caught the same Rapala, messed up gill in the same spot! This time the fished looked refreshed and lively! That's the only fish I seriously injured that summer and I caught a lot of fish. It's stressful I'm sure and you have to handle them with care, but it's very rare to watch a fish go belly up after releasing it.
As far as it causing pain, from my observation I would say the pain involved is fairly minor, if there is pain at all. Either that or fish are really bad ass and tough as hell. Catch and release is perfectly fine. Pain depends on where the fish got hooked. The real issue is when it swallows the hook or it goes to far into their mouths and you have to cause more damage to remove it. If I ever get a fish that is going to get something torn on the inside I put the fish down because it won't survive. Keep in mind one of the most important things with catch and release is to release the fish as quickly as possible. Life expectancy and recovery decreases DRAMATICALLY after about 30 seconds out of the water. more than 2 minutes out of water is pretty much a death sentence. I honestly think the pain is minimal, most game fish eat things that can fight back with sharp pointy bits. The bigger concern is being stressed and exhausted by prolonged toying with them while they are being reeled in. Hope this helps and have a great weekend!